No 2 Squadron RFC 1918, Lt Montgomerie's diary cont'd
No. 2 Sqn CO on 21 March 1918 was Major Wilfred R Snow, DSO, MC. The Squadron was under HQ 1st Brigade, Brig-Gen. D le G Pitcher, CMG and HQ 1st (Corps) Wing, Lt. Col. E L Gossage, MC.
Jan 28th Mon

Developed mumps and sent to No 12 Stationary hospital St Pol. Came here in a motor ambulance. An RFC EO and a Yankee officer are in the same hut with.
The diary records a rather dull time in hospital until his recovery in mid February.
Feb 14th Thurs

Sibley arrived today with mumps. There are only three pilots left in 'A' flight now. Went for two good walks and saw an old French forest. Heard that Thompson and Heney had crashed the old 285 on the aerodrome.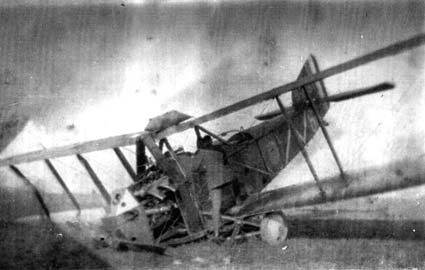 Armstrong Whitworth FK8 B285 crashed in thick fog by Lt. Thompson at Hesdigneul (February 1918). (Photos from H S Montgomerie's collection)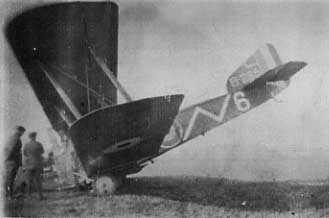 Feb 15th Fri
Nothing exciting happened today. Weather was misty and we did not go for a walk.

Feb 16th Sat

Sunny day. I went for a long walk to the west of the hospital. Carved my initials on a tree.

Feb 17th Sun

Went for two walks. Bristol fighter landed here lost - Gothas came over bombing and we think a stunt has started.

Feb 18th Mon

Fully disinfected and ready to leave. Went in to St Pol and found out when train left for Bethune. Received a pair of 'wings' from Mother for putting on flying tunic for luck.


Feb 19th Tues

Left St Pol on wrong train and passed through Lillers to Hazebrouck. Stayed the night at Hazebrouck in the Trois Clavaux hotel.

Feb 20th Wes

Left Hazebrouck on 9.21 civilian train and arrived Bethune at 11. Met Gunson of Sherwood For. and Charlton of No 2 and a South African pilot. Dunkerly returned from leave, saw CO and posted to 'A' flight again. Found Hom and Broadbent had been killed on 18 Feb in a fight [claimed over Armentieres by Jasta 23 Lt.n M Gossner (1)]. In this fight Allport and Hammond were attacked and Hammond brought two down – one in flames and this is a very good performance. [German records show one loss to Jasta 23 Lt.n H Kutt WIA (1)]

RFC Communiqué No 127

February 18

Enemy aircraft - Capt. J Allport and Lt. A W Hammond, 2 Squadron, while on photography, were attacked by six EA scouts. Lt. Hammond shot two down; one burst into flames and crashed, the other fell to pieces.

Feb 21st Thurs

Did not fly today. Jenkinson went on leave. Morry arrived and is posted to 'C' flight.

Feb 22nd Fri

Due for early show but weather was too 'dud'. Fired on observer's range and got 15 hits on 'running target'.

Feb 23rd Sat

Went up and did successful shoot on BY 56 with 125 SB. Cloud 4,000 feet and very bad visibility. Heavily 'Archied' over La Bassee canal but not hit. Most of my flying from now onwards was done on AW 3566.

Feb 24th Sun

Successful shoot on TC 82 with 73 SB. Cloud 4000 feet and one heavy shower. One bomb on Rue de Marais. 73 was shelled as I came back.

Feb 25th Mon

Major Snow [CO] went up and sent FL and all others sent UL. He did his shoot with clouds at 2000 feet. Five new pilots arrived – two for 'A'flight. Did not go into huts and went to Bethune in the morning.

Feb 26th Tues

On early show and did a successful shoot on BW 53 with 125 SB. Dropped bombs on Haisnes [2 miles over the line] and did not get much Archie. Went to do a second shoot but engine went 'dud' and UL was sent down. Hun tanks reported near Hulluck.

Feb 27th Wed

Successful shoot on T25 and 20.25 with 20th SB. Clouds at 5,000 feet which dropped to 2,000 later on. Dropped bombs on Rue de Marais. Went into Bethune in the afternoon with Ashby.

Feb 28th Thurs

Successful shoot on AX 12 with 73SB. Clouds from 2,000 to 9,000 with a heavy shower. Very cold. Dropped bombs on Canteleux [W. of La Bassée].

Mar 1st Fri
Unsuccessful attempt at shoot on T 19 c11 60 with 237 SB owing to clouds. Farthing 'wrote off' a 'B' flight 'bus' on his practise landings. Allport and Hammond awarded MC for their work on the 18 th of last month in shooting those two Huns down, and they deserved it.

RFC Communiqué No 129

March 1

Honours and Awards

The Military Cross - Capt. J M Allport; Lt. A W Hammond;

Mar 2nd Sat

Orderly officer. Snowed in the afternoon and the CO was trying to get shoots done. Received sweets from Mother.

Mar 3rd Sun

Misty all day and no work was done at all. I learnt up some information to pass onto the CO.

Mar 4th Mon

Leave stopped as CO thinks we are responsible for some damage done during a 'thick night'. CO has been awarded the DSO. 'Dud' all day and no flying was done. 'Bertha' asked if I was any relation of 'Comte Montgomerie'.

[Next pages missing]

Mar 7th Thurs

Went and visited 73-323 and 20 th S??? Batts. 73 were shelled soon after we left. 20 th put over a few rounds while we were there. They had been shelled in the morning. Bought mat for my hut on the way back.

Mar 8th Fri

Successful shoot on 4x12 with 237 and 323 SBs. Very hard to see bursts. Had Stanners as observer. Archie hit Sidley's prop and he had a forced landing and I did his shoot and had no Archie at all.

Mar 9th Sat

Collins and Heney killed and burnt just after taking off the drome. Collins turned when nearly stalled and spun from about 300 feet. Caught fire and the bombs went up - [a/c serial] AW 5786. Annotated my photo of 124 HB for the CO.

Mar 10th Sun

Successful shoot on T 25 c 6771 with 193[N] SB. Thick haze and bad visibility. Sat on the lines and dropped bombs on Rue du Marais without getting any Archie at all. Jenkinson returned from leave. Salt went on leave.

Mar 11th Mon

Standing by in case of Hun 'push'. Did not come off so I did ordinary early patrol. Went down to Vimy and saw memorial and crosses on ridge. Saw 7 Hun Albatros D 3 who attacked us at 3,500 feet and followed us to 400 behind [the line] Jenkinson's gun did not fire well so I spiralled all the way down. Nothing hit at all.

HSM's combat report for 11 March records, that on artillery patrol at 6,000 ft, seeing 3 EA Scouts over La Bassee which were then joined by four others. He descended to 3,000 ft and one EA dived on their tail while another attacked to their front out of the sun. EA continued attacking down to 400 ft East of Gorre, his observer, Lt. R A Jenkinson, fired 140 rounds from the Lewis gun. The EA then flew away East. (a/c AW B 5776)


Mar 12th Tues

Successful shoot on TC 41 with 90 th SB- Bty was shelled and had to stop firing for an hour. Had Weatherly as an observer. Saw Hun plane down behind the lines north of canal. Went to Bethune and saw Elphick and another fellow from Sherwood Foresters.

Mar 13th Wed

First time on C 13 photos, took about 17 plates. Attacked by three Hun Albatros W of La Bassée. Wardrope shot one down about 10x range. Camels came up and shot four down and four out of control – we lost none. This started at 9,000 feet and there were 17 Huns to start with.

HSM's combat report for 13 March records that on photography duties with Lt. Wardrope over La Bassee at 9,000 ft, they were attacked by 1 EA which dived on their tail. He put the aircraft into a spiral descent and the observer fired 20 rounds from a range of 25 yards. Bullets were seen to go through the engine and into the pilots seat. The EA then stalled and turned over going down in a vertical spin. The observer watched it down to 3,000 ft but they were then attacked by another EA diving on their flank. The observer fired 10 rounds and the EA turned away. They recrossed the lines while the remaining EA were attacked by Sopwith Camels. 2 EA were seen going down vertically followed by the Camels. (a/c AW C3579). They were credited with 1 a/c driven down OOC. The Camels were probably from 43 Sqn - mentioned in RFC Com 131.

RFC Communiqué No 131

March 13

EA were driven down out of control by the following: ... 2nd Lt. H S Montgomerie & Lt. W H Wardrope, 2 Squadron;

Mar 14th Thurs

Did not fly today. Went visiting batteries. Got badly shelled as we went to visit 193 SB. Shells fell about 50 yards off and were too close at that but the 'strafe' soon stopped.

Mar 15th Fri

Partially successful shoot on 4x57 with 493 rd SB[1-12 inch How] Wind and cloud were the cause of the difficulty. Flying over Hunland quite a lot E of Lens.

Mar 16th Sat

Only fired on aerial range and shot my prop through. Very good day without much work.

Mar 17th Sun

Early show and tried to shoot but Batty did not fire because of Hun planes. Quite a lot of Huns about. Fired on aerial range and did practise bombing.

Mar 18th Mon

Tried to do a calibration with 158th SB, but they would not fire for the Hun 'sausages'. Dropped bombs and came home. Went out on practise formation, as 'deputy leader' this afternoon, and followed a Handley Page after it was over.

Mar 19th Tues

Wet all day. Went to Bethune in afternoon. HV shells had been put in the morning [sic] and killed several people and wrecked the th?? h?? One fell near the Officers Club.

Mar 20th Wed

Wet in morning. CO flew on leave and took 209 to Home Establishment. 209 had done nearly 200 hours work in France. Left Chocques at 5.30 on leave and arrived Boulogne midnight.

Montgomerie was on leave until the 4th of April. During that time he saw his family in London, saw several of the current shows and bought his mother a gold and diamond brooch of RFC wings.

History Note

The last major German offensive of the war was launched on 21 March 1918 in the Somme area facing the British 5th and 3rd Armies between Arras and St Quentin. With the holding of the German advance by the end of March, attention switched to the Northern sector where the German forces launched a second attack on The Lys in early April.

Note: 1. The Jasta War Chronology, Franks, Bailey and Duiven